Yuri Dzivielevski became the WSOP champion for the third time
Brazilian Yuri Dzivielevski says that he is constantly learning and improving in mix games. The result of his work became visible on June 23, when Yuri Dzivielevski became the WSOP champion for the third time, winning a HORSE with a 1,500 USD buy-in. The Brazilian beat 835 rivals and earned 207,678 USD.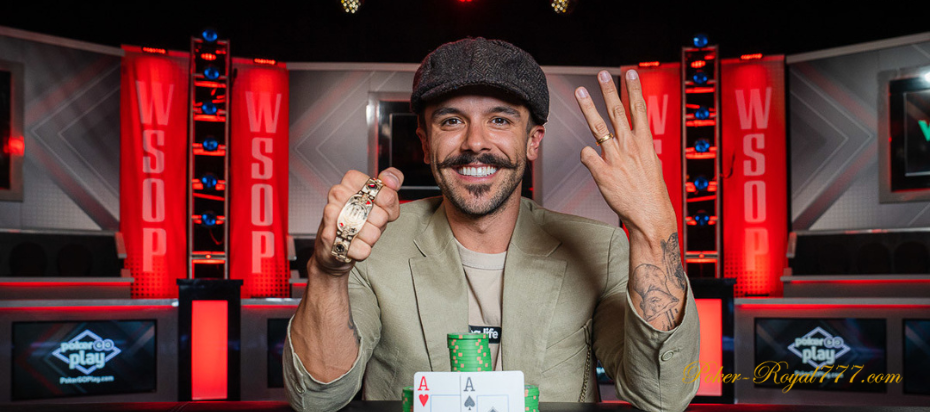 After the tournament, he was asked in which of the games he feels stronger, to which he replied: "I do not know. I'm working hard on my game, and to be honest, I don't know exactly where I'm stronger. The results show that limit Hold'em is my best discipline. I will continue to play every day in as many tournaments as I can," Dzivielevski said.
A well-dressed, often smiling Dzivielevski sat with a deep stack for most of the tournament. At the end of the first day he was in seventh place in the chip count, and at the end of the second day he was already a chip leader. He also started the final table as a leader.
Dzivielevski and Ohel
28 players reached the third day of the tournament. Such players as Gershon Distenfeld (23rd place), Anson Tsang (19th) and Jeff Schulman (18th) did not reach the finals. A step away from the final, Daniel Makowsky stopped, who lost to Dzivielevski's set with two pairs. The action began with the fact that Randy Ohel collected the best hi and low combinations in Stud Hi-Low, knocking out Serhii Popovych.
Then Dzivielevski collected a straight on the river, beating Denis Nesterenko (7th place). Thor William Morstoel took 6th place when Nghia Le collected a flush in Omaha 8. Before the heads-up, Dzivielevski scored two more knockouts. First, he knocked out Stephen Savoy (5th place), and then knocked out Le (3rd place). Frankie O'Dell finished fourth, who was knocked out by Ohel.
Dzivielevski and Ohel started the heads-up battle with almost identical stacks. Dzivielevski took the lead early and it seemed that victory was just around the corner. Despite this, Ohel survived, and then approached the opponent. Dzivielevski began to break away from his opponent again, and after two and a half hours after the start of the heads-up, it was time for the final hand. In limit hold'em, Dzivielevski collected a square, which was opposed by a pair of threes.
Yuri Dzivielevski — 207,688 USD
Randy Ohel — 128,356 USD
Nghia Le — 89,730 USD
Frankie O'Dell — 63,739 USD
Stephen Savoy — 46,019 USD
Thor William Morstoel — 33,779 USD
Denis Nesterenko — 25,214 USD
Serhii Popovych — 19,146 USD
Ohel became the runner-up of the tournament and added 128,536 USD to the bankroll. His total earnings rose to 2.1 million USD. In June 2012, Ohel became the owner of the bracelet, winning the 2-7 Triple Draw tournament for 2,500 USD.