Valentino Konakchiev and Rafael Reis won the first WSOP bracelets
In the WSOP series, regular no-limit hold'em tournaments were held. Valentino Konakchiev and Rafael Reis won the first WSOP bracelets, winning these events. The first of them won the event for 2,500 USD and earned 435,924 USD. In the decisive fight, the Bulgarian defeated the Argentine Andres Korn, who was hunting for his second bracelet. Rafael Reis became the best in the tournament for 1,500 USD and replenished the bankroll for 465,501 USD.
"I've been dreaming about this since I started watching poker on TV at the age of 15. I can't believe it actually happened," Konakchiev said.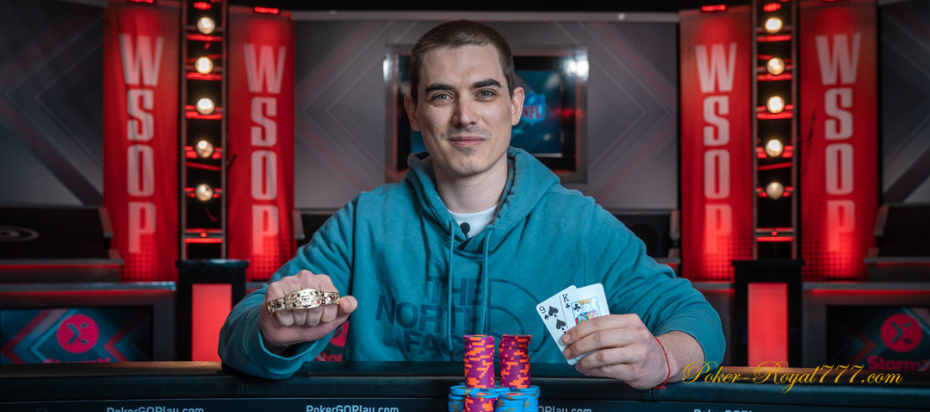 For the 31-year-old player, the prize money was the largest in his career. Prior to that, his best earned amount was 107,638 USD, which he received for 8th place in the main EPT Prague 2022. Konakchiev's total earnings offline approached a million dollars.
Valentino Konakchiev — 435,924 USD
Andres Korn — 269,438 USD
Alexandre Reard — 192,723 USD
Ruben Costa — 139,671 USD
Girish Reknar — 102,577 USD
Ankit Ahuja — 76,357 USD
Niall Farrell — 57,620 USD
Adam Swan — 44,087 USD
Qiang Xu — 34,210 USD
The third and final day of this tournament began with only 11 players left, each of whom earned at least 26,926 USD. Many famous players took part in the tournament, including the champion of the main bestbet Jacksonville 2022 CardPlayer Poker Tour Timothy Miles (10th place), the winner of one of the WSOP Europe 2017 high rollers Niall Farrell (7th place) and the owner of the bracelet Alexandre Reard (3rd place).
1,500 USD 6-handed NLH
On Friday, the champion of the 15th event (1,500 USD 6-handed NLH) was determined. It was the Brazilian player Rafael Reis. In the heads-up, Reis defeated Daniel Barriocanal and earned 465,501 USD. A total of 2,454 entries were recorded in the event, and the prize money was 3,276,090 USD.
"I had a mission, and I fulfilled it. The last time I was here, I took third place. This time I felt very comfortable. I've made mistakes in the past, but now I have more experience. I'm going to play everything. I had a plan before the tournament, and it hasn't changed," Reis said.
Rafael Reis — 465,501 USD
Daniel Barriocanal — 287,679 USD
Sarah Herzali — 207,720 USD
Nikolaos Angelou — 151,559 USD
John Monnette — 111,755 USD
Grant Wang — 83,289 USD
The chip leader of the second day of the tournament, Sarah Herzali, entered the top three, Nikolaus Angelou took 4th place, and four-time bracelet winner John Monnette closed the top 5. In total, 369 players got into the prize zone, and the minimum payout was 2,400 USD.