The first WSOP 2023 champion was determined
On June 1, the first WSOP 2023 champion was determined. It was Peter Thai, who won an event for industry employees with a 500 USD buy-in. He managed to beat 1,014 rivals in the battle for the golden bracelet and most of the prize pool of 426,300 USD. The American's reward was 75,535 USD.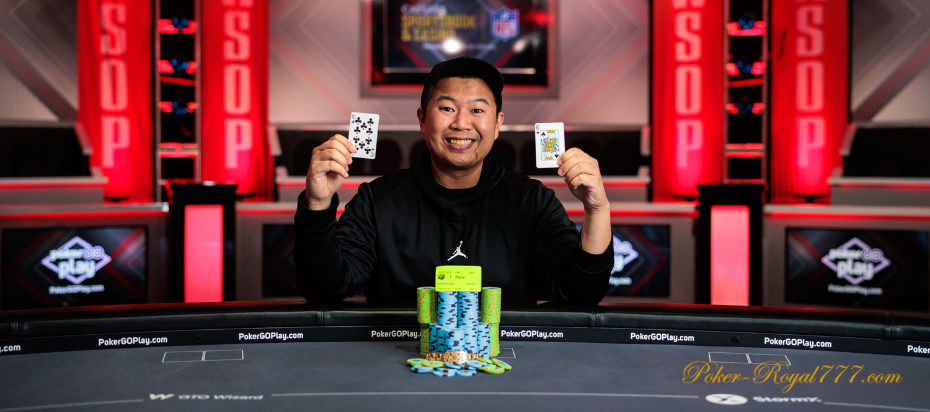 Peter Thai works as a dealer at Parkwest Casino 580, which is located in Livermore, California. For him, this victory was the biggest in his career, exceeding the amount of 21,602 USD that he received for first place in one of the Legends of Poker 2018 events.
"I'm an avid poker player. I don't play that often, but I still know what to do. I play more cash games than tournaments. I have a lot of tournament experience, mainly due to the fact that I played a lot of sit & go online during college. Overall, the impressions are incredible, and I can't wait to share them with everyone at home," Thai told WSOP reporters after the victory.
The tournament lasted two days in Paris and Horseshoe Las Vegas establishments. Due to the good turnout, it was possible to collect 426,300 USD, which went to 153 players. Former tournament champions Jimmy Barnett and Chad Holloway got into the prize zone.
In heads-up, Thai played against Urbanic
The second day of the event began with 89 people still in the game. Thai at that time was part of the top-20 chip count. When it came to the final table, the player was already in second position, second only to James Urbanic. Thai won a big pot when he went all-in with pocket eights against Urbanic.
Soon after, he knocked out two players at once. Thai's pocket kings stood up against Benson Tam's J-9s (5th place) and Bruce Jiang's pocket queens (4th place). Then Thai opened with a K-2 against a one-man 9-8 of Paul Blanchette, caught the king on the flop and went into the heads-up with a solid advantage.
Peter Tai — 75,535 USD
James Urbanic — 46,690 USD
Paul Blanchette — 33,051 USD
Bruce Jiang — 23,738 USD
Benson Tam — 17,303 USD
Sean Balfour — 12,802 USD
Keith McCormack — 9,617 USD
Joe Pavan — 7,337 USD
Lisa Eckstein — 5,686 USD
In heads-up, Thai played against Urbanic. In the final hand, Thai with K-10 called the all-in of an opponent who had a Q-7o hand. 10-10-4-Q-4 was distributed on the board, and Thai became the champion of the first event. Becoming a runner-up, Urbanic earned 46,690 USD.
The champion of the first expensive event, 25,000 USD 6-handed HR, will be determined today. Freeroll Tournaments of Champions, 1,000 USD Mystery Millions, 1,500 USD Dealer's Choice, 5,000 USD Mixed NLH/PLO have already started.