Talal Shakerchi became triumphant of the Triton Vietnam main event
On March 10, British businessman Talal Shakerchi became triumphant of the Triton Vietnam main event and earned 3.2 million USD. The prize money became the largest in Shakerchi's career. In total, the player won 12.8 million USD offline but still insists that poker is just a hobby. 135 players participated in the central event with a buy-in of 100,000 USD.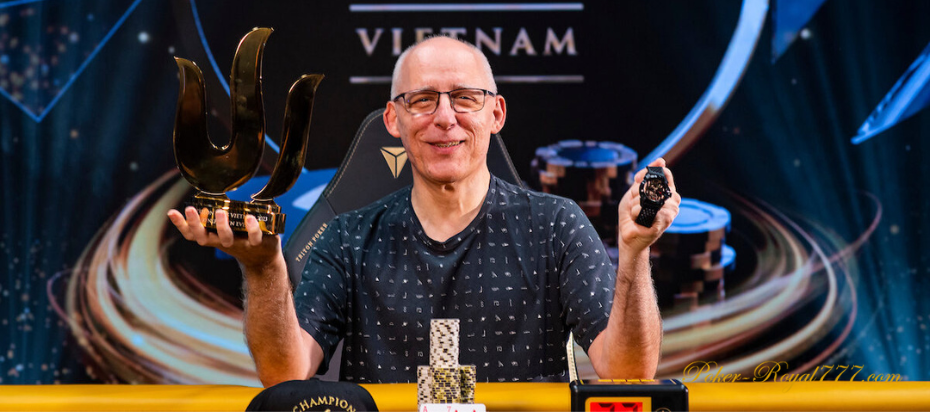 "Poker is my hobby, and I want to play with the best players. This is how you get satisfaction from any activity you do. Challenge yourself and try to show everything you are capable of. I'm not a professional player, I spend a lot of time playing poker, but I'm not a professional," Shakerchi said.
In addition to the title and money, Shakerchi received 1,320 POY points. In total, he has reached the finals three times this year. Once the Briton became the third in the turbo tournament at PokerStars Caribbean Adventure, then took 6th place in the turbo event Triton Vietnam and yesterday became the champion of the main event. Having scored 1,696 points in 2023 and earned 3.4 million USD, Shakerchi ranks 32nd in the CardPlayer rating.
20 people got into the prizes
The main event lasted three days. 20 people got into the prizes. WPT and EPT champion Michael Watson (20th place), bracelet holder Sam Greenwood (19th), 9-time WSOP champion Erik Seidel (18th), bracelet holder Bryn Kenney (17th) and Coin Rivet Invitational champion Sam Grafton (16th) earned money but did not reach the final.
Day 2 ended with 9 players remaining. Shakerchi was a chip leader, and Mateos and Holtz had stacks above average. An hour after the resumption of the game, Roman Hrabec (9th place — 324,000 USD) and Winfred Yu (8th – 418,400 USD) were eliminated. The 7th place was taken by Nick Petrangelo, who lost with pocket jacks to Michael Soyza's pocket aces.
The next elimination happened an hour later. Timothy Adams lost to Talal Shakerchi with a pair of aces and took 6th place. After that, Fedor Holtz, with pocket aces, faced Daniel Smiljkovic, who had A-Q. Another ace fell on the turn, and Holtz went to rest. In the next hand, Mateos put 12 BB with K-7 but lost to Soyza, who collected a pair. Mateos was left with 2 blinds and soon lost them to Shakerchi. Next, Daniel Smiljkovic, with two pairs, could not overcome Shakerchi's flash and took 3rd place.
Talal Shakerchi — 3,250,000 USD
Michael Soyza — 2,207,000 USD
Daniel Smiljkovic — 1,450,000 USD
Adrian Mateos — 1,201,000 USD
Fedor Holtz — 965,000 USD
Timothy Adams — 756,000 USD
Nick Petrangelo — 566,800 USD
Winfred Yu — 418,400 USD
Roman Hrabec — 324,000 USD
Michael Soyza and Talal Shakerchi remained in the heads-up. The Briton's stack was twice as large. Once Soyza managed to get ahead, but then Shakerchi took control of the game again. In the decisive hand, Shakerchi, with a straight, beat a pair of his opponent, after which Soyza had only 10 blinds left. He managed to win a couple of blinds, but then it was time for the final hand. Soyza had Q-7, and Shakerchi had A-7. None of the players improved, and Shakerchi became the champion.