Takashi Ogura made a comeback and won the Poker Dream Manila SHR
Another expensive Poker Dream Manila tournament ended yesterday at the Newport World Resorts casino in the Philippines. 39 people took part in a super-roller with a buy-in of 500,000 Philippine pesos (9,150 USD). Japanese player Takashi Ogura made a comeback and won the Poker Dream Manila SHR, earning 111,294 USD. There was a moment in the final when Ogura had only half of the big blind.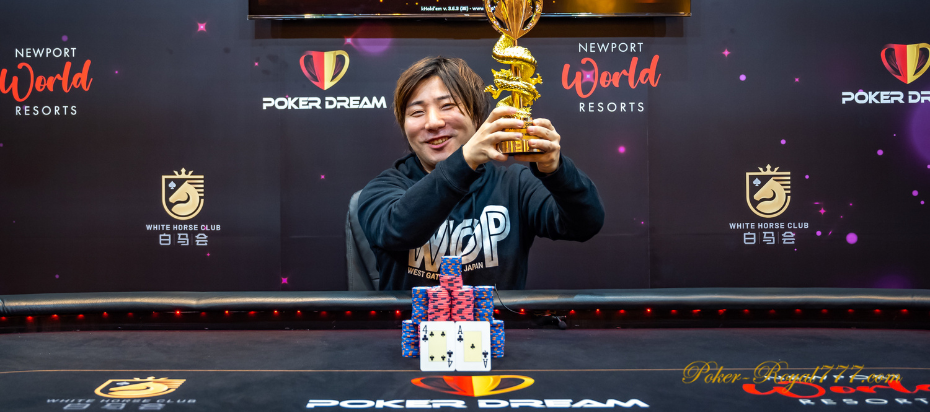 Runner-up Gary Thompson earned the largest prize money (77,022 USD) in his career. Most recently, in March, Thompson recorded a victory in one of the events for 2,000 pounds at the UK Poker Open, earning 59,530 USD.
Malaysian player Eng Soon Ewe, who won this super-roller in 2022, defended the title, but stopped at the third line. His brother Eng Siang Ewe also got into the prizes along with the owner of the bracelet Danny Tang and cash player Ajitpal Singh.
39 entries were made
The final day began with 15 out of 27 people remaining in the game, and three more levels were opened for late registration. After closing, it turned out that 39 entries were made. The number of tables was reduced to two, and Paul Fontan Castrillon, Kah Yew Teng, and Wei Hsiang Yeu left the game.
Australian William Jia was a chip leader at some point, but quickly lost his stack and left the game. The same fate befell William Theoh. Poker Dream founder Winfred Yu, Wai Kiat Lee and Lester Edoc also failed to get into the top 9. Shortly before the money, the chip leader of the first day, Sriharsha Doddapaneni, was eliminated.
Ogura's hopes of winning were reduced to almost zero when the player stumbled upon the aces of Eng Siang Ewe. Ogura miraculously recouped by doubling his stack several times. Eng Siang Ewe was the first to leave the final table, followed by Natural8 Ambassador Danny Tang. Ajitpal Singh stopped a step away from the bronze.
Takashi Ogura — 111,294 USD
Gary Thompson — 77,022 USD
Eng Soon Ewe — 49,063 USD
Ajitpal Singh — 37,699 USD
Danny Tang — 29,474 USD
Eng Siang Ewe — 22,908 USD
The remaining three fought on equal terms, and at some point the difference between the stacks was minimal. However, Ogura managed to get ahead, and after that he knocked out Ewe. The heads-up started with the overwhelming advantage of Ogura. Thompson made one double-up, lost part of the stack, and then raised up to 600,000 with pocket nines. Ogura went all-in with the A-4s, and Thompson called. 10-5-3-10-6 was distributed on the board, Ogura collected a flush and became the champion.