Stephen Song won WPT Prime Championship
The WPT Prime Championship event, with a buy-in of 1100 USD, gathered a huge field of 5,430 entries, which is why the initial guarantee of 2,000 0000 USD was exceeded more than twice and amounted to 5,267,100 USD. Stephen Song won the WPT Prime Championship, earning 712,650 USD. This is the most significant prize money in the career of a 27-year-old player from Connecticut.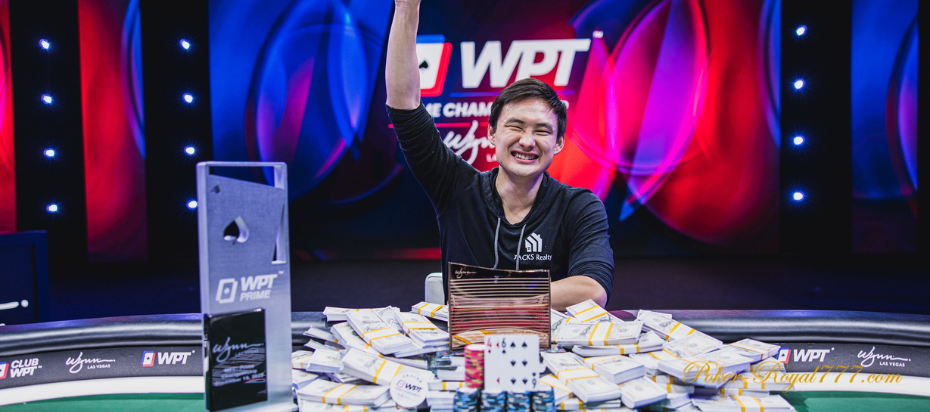 "To be honest, it's just unbelievable. It was a year of dreams, and the tournament was the cherry on the cake. Words can't explain how I feel. I'm just so happy. I obviously played like a God because you had to get around 5,400 people. I do not know if I will ever be able to repeat the result, but it's really nice," Song said after the victory.
Before that, Song's best result in his career was second place, which he took at the WSOP 2022. For this, he received 476,990 USD. As Song said, the year was highly successful for him. He managed to earn 2,389,405 USD. He was awarded rating points for his victory. Song was credited with 1320 POY points. In the CardPlayer rating, the player now takes second place.
Lara Eisenberg and Stephen Song remained in the heads-up
The participants of the final table were determined on December 13, but the tournament continued on December 19. The first elimination happened already in the 14th minute of the game. Giorgii Skhulukhiia made a bet with clubs 10-7, Lara Eisenberg made a call with pocket aces. Giorgii eventually managed to collect a flush, but Eisenberg had a full house.
Albert Nguyen was eliminated next. He min-raised from the button with A-Q, Alon Messiсa called with A-10. A-J appeared on the board-5-10- A, Nguyen collected trips, and Jessica improved to full house. Messiсa himself was the next to be eliminated. He placed a bet with K-6s, and Young Eum raised with A-6. On the flop, Jessica had a flush draw, and Eum had a top pair. Alon Messica could not collect the flash and took 4th place.
The remaining three players were constantly involved in all-in hands. The short stack won until Eum collided with Eisenberg. His A-Q lost to the opponent's pocket jacks. Eum earned 354,000 USD. This is the third time in 2022 that Eum is in the top 3 of the tournament. In June, he became the second in one of the WSOP events, and three weeks later he won a gold bracelet.
Stephen Song — 712 650 USD
Lara Eisenberg — 481 500
Young Eum — 354,000
Alon Messica — 265,000
Albert Nguyen — 200,000
Giorgii Skhulukhiia — 153 000
Lara Eisenberg and Stephen Song remained in the heads-up. The stack ratio was about 3 to 1 in favor of the former. Soon Song quickly reduced the gap and then pulled ahead. In the final hand, Eisenberg had Q-8s, and Song held 6-4. Q was distributed Q-8-5-7-2 , and Song became the champion.