Stephen Nahm won a bracelet in a 1,000 USD tournament
The three-day Omaha pot limit tournament, which cost 1,000 USD, has recently ended. 2071 players decided to try their luck, thereby creating a prize pool of 1,795,130 USD. The field was about 10% larger compared to last year, when 1,891 entries were recorded. Nahm's reward for the victory was 267,991 USD.
"Obviously, every poker player dreams about this, right? I'm not going to lie, I kind of realized my dream," Nahm said after the victory.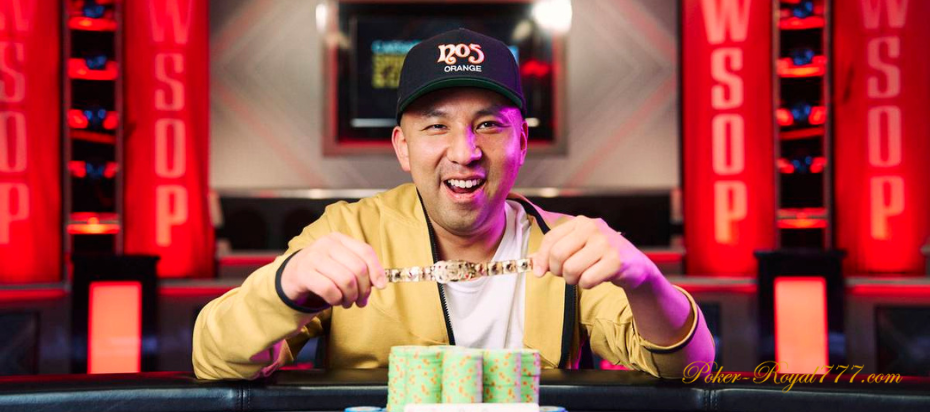 Nahm added that he prefers cash games, but will return to play in the NLH/PLO mix. After the tournament, the player and his friends went to celebrate the victory. This is the first major victory of a Canadian player offline. Prior to that, his best earnings were 4,332 USD, which he received for the 160th place in one of the Wynn Summer Classic 2017 events.
Final table
At the end of the second day, only 13 players competed for the title. The players with short stacks were the first to be eliminated. Nicolas Gola and Thomas Zanot lost all their chips after losing to Dan Matsuzuki's aces. Paul Clotar took 11th place and earned 19,678 USD. Mike Gorodinsky, who received the same amount of money as Clotar, did not have enough time before the final.
Thomas Taylor was the first to leave the final table, earning 24,891 USD. Jonathan England took 8th place, losing to Matsuzuki's aces. Gheorghe Butuc lost the coinflip and took 7th place. Ronald Keijzer, who won the PokerGO Tour and US Poker Open titles this year, finished sixth, losing to Kevin Rand.
Dan Matsuzuki, who started the final table as a chip leader, took 5th place. After losing several small and medium-sized banks, he went all-in, but lost to two pairs of Nahm. Zachary Peay then won a big hand, then lost almost everything throughout the event. Luck eventually turned away from him, and he took 4th place.
Stephen Nahm — 267,991 USD
Kevin Rand— 165,616 USD
Amir Mirrasouli — 123,060 USD
Zachary Peay— 92,231 USD
Dan Matsuzuki — 69,729 USD
Ronald Keijzer — 53,182 USD
Gheorghe Butuc — 40,923 USD
Jonathan England — 31,772 USD
Thomas Taylor — 24,891 USD
After that, there was a three-way all-in, in which there were Amir Mirrasouli (K-7-8-2), Kevin Rand (6-7-3-3) and Steven Nahm (Q-9-8-7). A 3-8-5-K-6 was distributed on the board, Nahm collected a straight and knocked out two opponents at once. Amir Mirrasouli took 3rd place and received 123,060 USD, Rand became a runner-up and received 165,616 USD, and Nahm became the owner of the bracelet and took 267,991 USD.