Roland Israelashvili and Daniel Lowery won the WSOPC tournaments
Last week, Joshua Reichard won the 14th WSOPC ring, equaling Maurice Hawkins in this indicator. No one else has it. Recently, Roland Israelashvili and Daniel Lowery won the WSOPC tournaments and approached the record holders. For Israelashvili, the victory at the WSOPC was the 9th in his career, for Lowery – the 13th.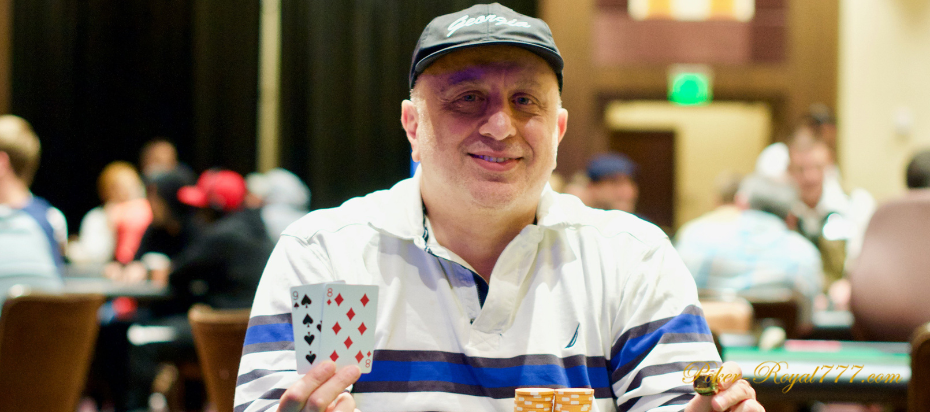 Roland Israelashvili became the twelfth player to win 9 or more WSOPC tournaments. On April 14, a 65-year-old player from New York beat 270 rivals in a no-limit hold'em event at the WSOPC Grand Victoria Casino, earning 20,277 USD. Israelashvili holds the series record for the number of caches. The American got into the prize zone of WSOPC tournaments 211 times. The nearest pursuer is 33 cashes behind.
In total, during his career, Israelashvili won more than 4.6 million USD, of which about 1 million USD was at the WSOPC. To be more precise, the player earned 1,021,446 USD, which is the seventh result among all players. The table is headed by Maurice Hawkins, who earned 2.2 million USD in WSOPC.
Roland Israelashvili — 20,227 USD
Benjamin Keelin — 12,501 USD
Daniel Graffenius — 9,000 USD
Jefferson Guerrero Montejo — 6,592 USD
Vanessa Villarica — 4,913 USD
James Stern — 3,728 USD
James Pillon — 2,880 USD
Patrick Walsh — 2,266 USD
Phu Nguyen — 2,266 USD
In addition to Israelashvili, Allen Kessler (14th place) and WSOP bracelet holder Benjamin Keelin (2nd place) got into the tournament prizes. Keelin fought for his second WSOPC ring, but failed, taking 12,501 USD.
Lowery won the WSOPC Horseshoe Tunica series
Daniel Lowery is just one win away from matching the number of WSOPC rings with Maurice Hawkins and Joshua Reichard. Lowery won the WSOPC Horseshoe Tunica series on April 20. This happened in an NLH event with a buy-in of 400 USD. The reward for the first place was 16,739 USD.
This year alone, Lowery has won three times in the WSOPC series. At the very beginning of 2023, the player became the champion of the WSOPC Choctaw, winning a tournament called Gargantuan with a buy-in of 500 USD and receiving 102,511 USD. A few months later, he won a 300 USD turbo tournament at the WSOP International Circuit Casino Royale, earning another 8,500 USD.
Daniel Lowery — 16,739 USD
Troy Skinner — 10,346 USD
Saeed Nia — 7,338 USD
Glenn Banks — 5,310 USD
William Stanford — 3,922 USD
Samuel Bracktone — 2,957 USD
Terry Griffith — 2,278 USD
Richard Kelly — 1,794 USD
Jerome Spearman — 1,444 USD
The father of four children from Arkansas has tournament earnings of 2.4 million USD. Most of this money (1.4 million USD) falls on WSOPC events. The American got into the prizes of this series 123 times.