Reiji Kono won WPT Prime Cambodia Main Event
The WPT Prime series ended at the Nagaworld Integrated Resort in Phnom Penh on March 20. The culmination of the championship was an unlimited hold'em tournament with a buy-in of 1100 USD, which collected 1011 entries. Japanese player Reiji Kono won the WPT Prime Cambodia main event and earned 131,731 USD. In addition to the money, the poker player received a ticket to the WPT World Championship, which will be held at the Wynn Casino in Las Vegas in December.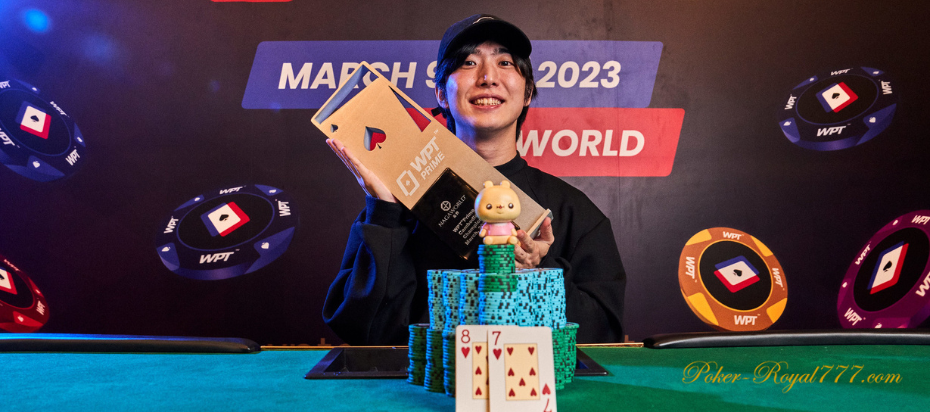 Thanks to the victory, the resident of Tokyo, Japan, increased his career earnings to 148,842 USD. This is his second title. The player won his first victory in the DeepStack Championship, which was held in 2022 at the Venetian Casino, Las Vegas.
As noted above, 1011 players were attracted. This number of entries was registered thanks to three starting flights. The prize fund was 980,670 USD. 128 players who received 1800 USD got into the prize zone. All these 128 gamblers made it to the second game day. The final nine was determined after 11 hours.
Bien Mai became a runner-up
Kono was at the bottom of the chip count when the final table started, but he straightened things out thanks to an early double-up. The second time the Japanese doubled when there were five people left in the game. Kono made the first knockout when he knocked out Charlie Chiu (4th place). After that, he also dealt with Matthieu Lamagnere.
At the beginning of the heads-up, Kono had 10 million chips, but Bien Mai had a stack of 20.3 million chips. At the final table, 189 hands were played, but in the heads-up, it took exactly 20 to determine the champion. Kono joined the chipleaders in the penultimate hand when he went all-in for 8 million.
In the final hand, A-K-8-7-7 appeared on the board. May had Q-7s and eventually collected trips, but Kono had 8-7, and he collected a full house. Bien Mai became a runner-up, receiving a 117,842 USD award.
Reiji Kono (Japan) — 131,731 USD
Bien Mai (Vietnam) — 117,842
Matthieu Lamagnere (France) — 112 247
Charlie Chiu (Taiwan) – 59,820
Jose Catela (Portugal) — 45,120
Sho Katsura (Japan) — 34,400
Feng Chua (Singapore) — 26,510
Lewis Cowell (UK) — 20,660
Nicolas Ragot (France) — 16 280
Kunal Patni (14th place), WPT champion Pete Chen (27th), Weiwei Chung (28th), Brad Owen (40th), Ian Modder (47th), Nevan Chung (49th), former WPT Vietnam champion also got into the tournament prizes Dhaval Mudgal (103rd), Aladin Rescallah (113th) and Jae Kyung Sim (128th).
You can participate in satellites worth 110 USD every Saturday at WPT Global. If successful, you can win a package on WPT Prime worth 1500 USD. The package is allowed to be used in any of the WPT Prime championships, of which there are still 6 left this year. The next WPT Prime is scheduled for May 11-15 in Bratislava, Slovakia.