Michael Watson won the short deck tournament at Triton Vietnam
Michael Watson has repeatedly won major tournaments, including the main events of the World Poker Tour and the European Poker Tour. The 38-year-old Canadian recently added another prestigious title to his collection. Michael Watson won the short deck tournament at Triton Vietnam and earned 695,000 USD. A total of 44 players participated in the tournament with a buy-in of 50,000 USD.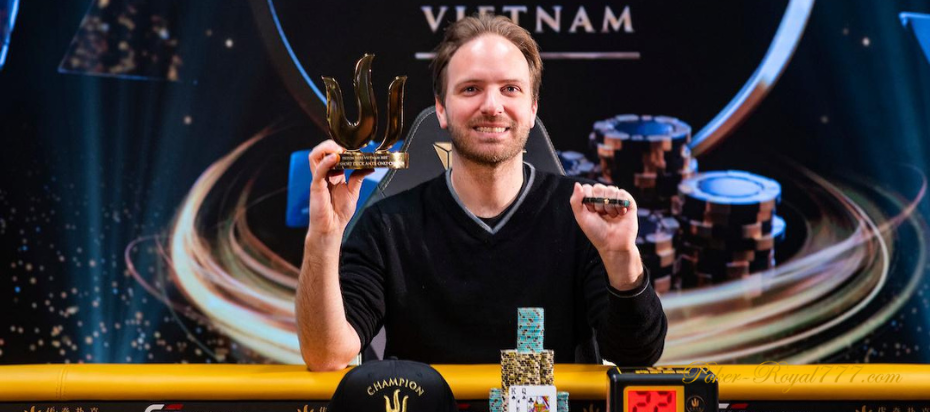 "It was great. I have participated in many similar tournaments, and I have had many close results. These are the biggest tournaments, the best series, so it's nice to finally win one of them," Watson said after the victory.
The title was the 20th in the Canadian's career, and the prize money was the sixth largest. Now his offline earnings exceed 19.2 million USD. He ranks 5th among Canadian players in terms of money earned. Watson also earned 510 POY points. With 1,320 points and 1,537,515 USD in prize money, the Canadian now ranks 52nd in the CardPlayer ranking.
Watson and Haxton played in the heads-up
The tournament was held from March 11 to 12 at Hoiana Resort & Golf in Quang Nam, Vietnam. Day 2 started with 10 players remaining, but only 7 of them could earn. The future champion had an average stack. The bubble boy was Rob Yong, who could not cope with Michael Zhang. Zhang then scored a second knockout when his pocket aces were stronger than K-J of Tan Xuan (7th place – 116,000 USD). Soon Mikita Badziakouski also left the table, with A-J losing to A-K of Phil Chiu. The Belarusian received 140,000 USD.
Jason Koon, who won a turbo tournament for 50,000 USD a few days ago, got to the final again. In the battle with Zhang, already on the flop, Koon collected a nut straight. However, then Zhang managed to finish the flush, and Koon left the tournament, earning 187,000 USD. Only after that Watson scored the first knockout, knocking out Chiu. Watson's 9th high Street was stronger than the opponent's set. Chiu received 242,000 USD.
Zhang went all-in next. He made a bet with Q-10, and Watson opposed him with a pair of jacks. Zhang had a straight draw on the flop, but he could not finish the combination. Zhang took 3rd place and earned 320,000 USD.
Michael Watson — 695,000 USD
Isaac Haxton — 500,000 USD
Michael Zhang — 320,000 USD
Phil Chiu — 242,000 USD
Jason Koon — 187,000 USD
Mikita Badziakousk — 140,000 USD
Tan Xuan — 116,000 USD
Watson and Haxton played in the heads-up. The first one had a stack four times larger, so it didn't take him long to register a victory. In the second hand, Watson opened with K-Q, and Haxton called with A-A. Q-10-10-J-9 appeared on the board; Watson collected a straight and became the champion.