Kevin Nguyen won the Mid-States Poker Tour main event
On March 12, Kevin Nguyen won the Mid-States Poker Tour main event, which took place at the Grand Falls Casino, located right on the border of the states of South Dakota and Iowa. For the victory, the American player received an award in the amount of 83,109 USD. This is the first tournament victory for a resident of Sioux City, Iowa. Nguyen's earnings during his career increased to 85,738 USD.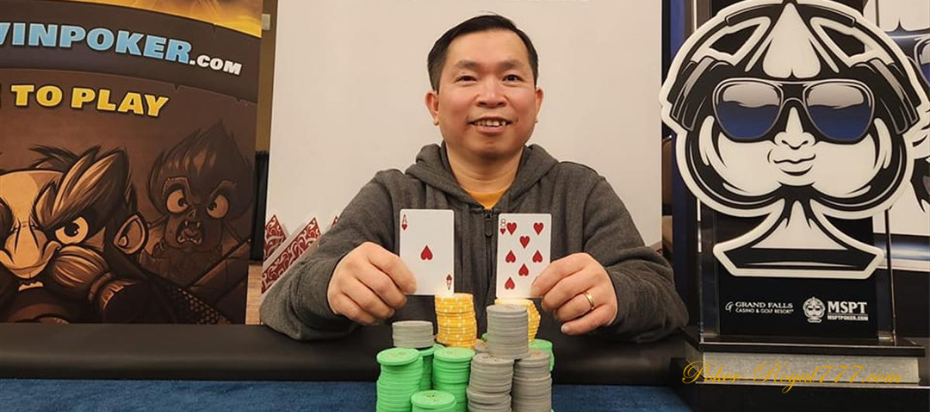 The event, with a buy-in of 1,100 USD, managed to collect 377,770 USD in prize money thanks to two starting flights, in which 391 players took part. Of these, only 45 were awarded prizes and received at least 2,078 USD. The final day started with 56 players in the game, but the loot stage passed quickly.
Kevin Nguyen — 83,109 USD
Dan Dykhouse — 51,376 USD
Mark Weber — 37,399 USD
Blake Bohn — 27,577 USD
Aaron Johnson — 20,777 USD
Jens Jensen— 15,866 USD
Scott Sisler — 12,466 USD
Michael Estes — 9,822 USD
Justin Gish — 7,178 USD
The final table with nine participants was determined after almost 9 hours of play. By that time, Nguyen was already a chip leader, holding 3.3 million chips, while his closest pursuer had 1,205,000 chips. The most experienced finalist was Blake Bohn, with a career earnings of 3,783,921 USD. However, he had one of the shortest stacks, and he could not become a champion.
Final table
The first to leave the final table was Justin Gish, who earned 7,178 USD. Then Michael Estes (9822), Scott Sisler (12,466 USD), Jens Jensen (15,866 USD), and Aaron Johnson (20,777 USD) lost all the chips. The aforementioned Bohn, although he started the final table with a short stack, was able to eventually reach 4th place and get 27,577 USD. Mark Weber entered the top 3, receiving 37,399 USD.
Nguyen stopped being a chip leader shortly before the heads-up, passing Dan Dykhouse ahead. Nguyen had 2,775,000 chips, and Dykhouse had 7,000,000. However, Nguyen quickly doubled, and then in the key hand, he collected a straight and took the lead. In the final hand, Nguyen had A-8, and Dykhouse had 6-4. K-K-J-2-5 was distributed on the board, and Nguyen became the champion.
"It's an amazing feeling, and I really have nothing more to say. I don't really play too often, but when you guys come to town, I try to make sure to attend the tournament. It's a great tour, and the staff is amazing, so I definitely come and play," Nguyen said after the win.
Among the players who got into the prizes but reached the final table were Alex Wheeler (18th), Matt Alexander (20th), Terence Reid (37th), Max Havlish (38th), Ryan Skluzak (44th), and Adam Schultz (45th).