Ken Baime missed his plane and won the MSPT title
American player Ken Baime recently bought tickets home for himself and his wife and managed to check out of the hotel. It so happened that Ken Baime missed the plane and won the MSPT title. Baime fought in the heads-up with Miles Barnum for almost three hours before finally winning the Mid Stakes Poker Tour (MSPT) at Sycuan Casino and earned 82,512 USD. After the victory, Baime thanked his wife, who participated in this adventure.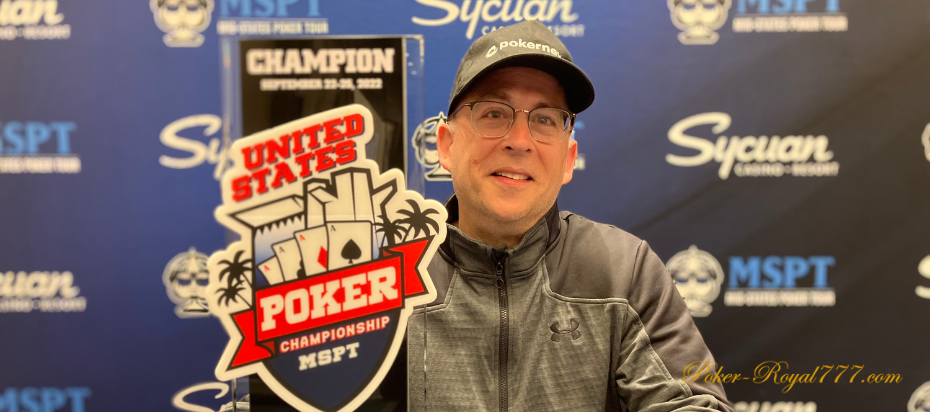 "I dedicate the victory to my wife, who allows me to do all this. She had no idea what she was getting into when we got married, but I appreciate it," Baime said.
Baime was second in the chip count after the end of game Day 1a. He managed to keep a large stack until the very end. In the fight for the title, the poker player beat 435 rivals. Earlier this week, Baime won an event for players over the age of 50 worth $250. For winning this tournament, he received 6,300 USD.
Ken Baime — 82,512 USD
Miles Barnum — 67,511 USD
Jason Kapoor — 41,721 ​USD
Brayan Noriegasolis — 30,764 USD
Hal Marcus — 23,178 ​USD
Brian Nordin — 17,700 USD
Elvis Toomas — 13,907 ​USD
Suhail Khan — 10,957 ​USD
Kevin Malis — 8,007 USD
"Now I'm excited, but very tired. Any of us could really win, because the initiative changed hands. I really feel like I played with confidence. I had a pretty good summer, and I am sure that I read the actions of my rivals well," Baime added.
By the beginning of the second and last day of the tournament, 55 players remained in the game. WSOP champion Massoud Eskandari (14th place), MSPT champion Gianluca Pace (13th) and chip leader of Day 1b Patt McCool (11th) did not reach the final table.
Miles Barnum and Ken Baime played in the heads-up
Kevin Malis (8,007 USD) was the first to leave the final table. He lost to Jason Kapoor's pocket kings in the first hand and lost most of the stack. Then, with K-7, he lost to the opponent's A-Q and lost all the chips. Suhail Khan (10,957 USD) took eighth place. With Q-J, the player could not beat A-Q of the same Kapoor. Elvis Toomas (13,907 USD) followed him home when his K-Q collided with Ken Baime's A-7.
Brian Nordin (17,700 USD) with K-4 failed to beat A-J of Brayan Noriegasolis and took sixth place. Hal Marcus entered the top five (23,178 USD). His pair of jacks turned out to be weaker than Kapoor's flush. Kapoor then scored another knockout when his pocket Eights beat Brayan Noriegasolis' A-Q (30,764 USD).
It seemed that Kapoor was close to winning, because he had 75% of all the chips in the game. But his advantage quickly disappeared when he lost four close all-ins in a row. Later, he lost the last chips to Baime. Kapoor dedicated his game to a recently passed away friend. Miles Barnum and Ken Baime player in the heads-up. The players seized the initiative countless times, and as Baime said, everyone could win. Eventually Barnum with A-5 lost to the opponent's pocket aces and took 2nd place.