Joshua Pollock became the triumphant WPT Legends of Poker
Having beaten Ray Kartomi in a heads-up, Joshua Pollock became the triumphant WPT Legends of Poker. The American player received $ 573,350 for first place, and his heads-up opponent received $ 380,000. The $5,250 tournament with a total prize pool of $3,113,700 brought together 642 players. This tournament was held for the twentieth anniversary time.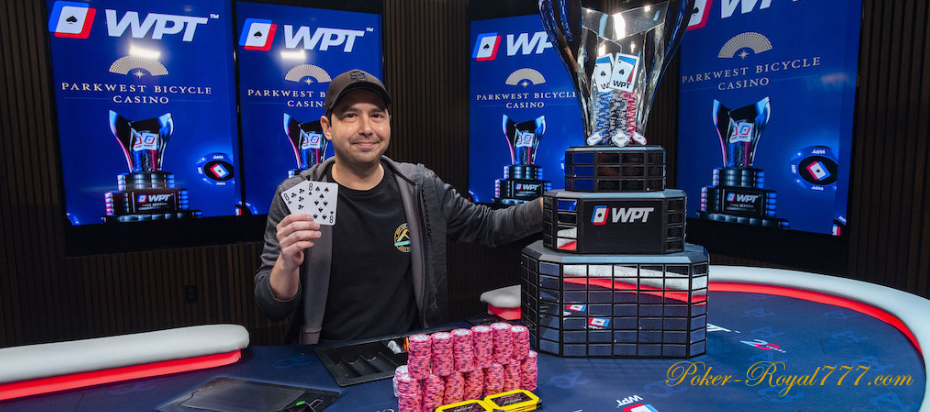 Pollock won the WPT title for the first time, but before that, he won the WSOP series twice and earned more than $ 1.7 million during his career. His previous best result in Legends of Poker was fourth place in 2011. At that time, he managed to earn 128 5000 dollars.
Pollock became the chipleader of the 2nd game day and stayed in the top almost all the time. Day 3 went well for Pollock, and he finished second behind Matthew Wentman. Kartomi headed the chip count of the final table, but Pollock was not far behind. Final table:
Joshua Pollock — 573 350 USD
Ray Kartomi — 380,000
Matthew Wentman — 280 000
Aaron Motoyama — 207,000
Lei Lei — 156 000
Adam Hendrix — 119,000
Adam Hendrix was the first to leave the final table and received $119,000 for the 6th place. Hendricks collected a flush draw but could not improve the combination and lost to a set of fours by Wentman. After Hendrix, Lei Lei went home a few hands later when his A J couldn't beat Wentman's pocket kings.
The turning point for Pollock came after he knocked out Aaron Motoyama. Motoyama increased his bankroll by $207,000.
"There was a big turnaround when there were four players left. Motoyama and I had the same stack, and I went all-in on the flop with a queen and a ten. He made a call with pocket nines, but I got another lady and ruined him," said the champion.
Pollock matched up with other players after Motoyama's knockout
After Motoyama's knockout, Pollock equaled the other players. The three-hand game went on for quite a long time, and Pollock eventually dealt with Wentman. Matthew Wentman failed to win a second WPT title, stopping in third place and receiving $280,000. The heads-up game started shortly before 5 p.m. local time, and it took less than an hour to determine the winner.
Pollock had more chips at the very beginning of the game but then conceded the advantage to Kartomi. Pollock quickly regained control of the game and the decisive moment came when Kartomi with an ace and an eight could not cope with the opponent's pocket eights. Kartomi became a runner-up and received $380,000.
"Coming face to face with Ray was pretty cool because I think we both have similar styles. He likes to play fast and I like to play fast, so it was a delightful experience," Pollock said after the game.
Kartomi often plays at the WPT final tables. This is his sixth finale in the series. This year, Kartomi managed to take third place in the WPT Choctaw.
Pollock wants to take some time off in December and devote time to his family: "I've been playing for a long time. I started playing online in 2002. I don't play much live poker right now. My wife is pregnant, so I don't think I'll be performing much. Hopefully, I'll be able to host a bunch of tournaments by the next WSOP. It's exciting and I definitely want to play more tournaments next year."
The series will stop in Tampa for the WPT Seminole Hard Rock Tampa. The tournaments will be held from September 2 to September 7. The main event of the series will be a $3,500 main event.