Joao Vieira won the ninth WCOOP title
The PokerStars WCOOP championship is in full swing: new champions are determined every day, and experienced players win the next titles. The other day, Joao Vieira won the ninth WCOOP title, equaling Denis Strebkov in this indicator. In 2022 alone, the Portuguese poker player won three tournaments in the series. He also won three events in a year in 2019. This time Vieira submitted to the $2,100 2-7 Triple Draw event. He managed to beat 32 opponents on the way to the title.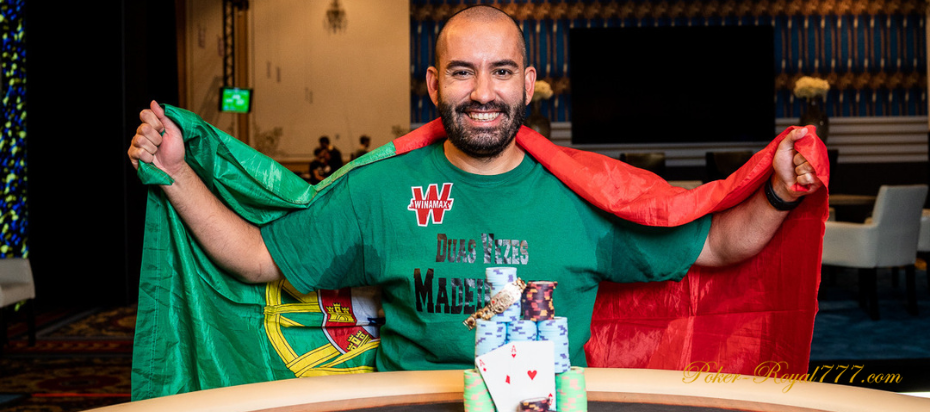 The Portuguese could have had a lot more WCOOP titles if he hadn't lost in heads-up. This year alone, Vieira has been runner-up four times. The last time he became the second in the $2,100 World Championship of 8-Game, where he lost to the Canadian roo_420 and settled for 31,593 USD.
Ognyan Dimov also won his third WCOOP title in 2022. According to this indicator, he caught up with the above mentioned Vieira and Rui Ferreira. Dimov's first victory was in a tournament with a buy-in of 10,300 USD, and he received the second trophy in a small no-limit hold'em event with a buy-in of 215 USD. The Bulgarian won the last title in a prestigious high-roller event worth 5,200 USD, receiving 160,276 USD.
The tournament was held on September 20 and attracted 159 participants who created a prize pool of 795,000 USD. The first to leave this tournament was Jacob Miguel, who received 21,939 USD. Then Gediminas Uselis (27,783 USD), Samuel Vousden (35,687 USD), Vicente Delgado (45,839 USD), Roman Romanovsky (58,879 USD), DrawindDead (75,629 USD) and David Peters (97,144 USD) were eliminated. In the heads-up, Ognyan Dimov beat PokerStars ambassador Yuri Dzivielevski (124,779 USD).
Charlotte Van Brabander won the women's tournament
Belgian poker player Charlotte Van Brabander won the women's tournament: $530 WCOOP Women's World Championship. Before the start of the final game, she had one of the shortest stacks, but she was able to make a comeback and become a champion. For the victory, Van Brabander received 15,886 USD. A total of 77 entries were registered in this tournament.
In this tournament, all eyes were on Georgina James, who is a member of the PokerStars team, but the Briton became only the seventh, receiving 3,013 USD. German Leo2808 (2,261 USD) was the first to leave the championship, then acumen plus (2,610 USD), Georgina James (3,013 USD), lu199511 (3,975 USD), Jewete (5,245 USD), railerita (6,919 USD) and Billionai8 (9,128 USD) were eliminated. In the heads-up, Van Brabander was stronger than the Ukrainian poker player murr018 (12,041 USD).
Besides Vieira, Dimov and Van Brabander, there were other champions. Three more players won their second title this year:
"T0X16-" —$530 NLH
Christian Jeppsson — $1050 NLHE Freezeout ​​
Tobias Leknes — $530 PLO 6-Max
Recall that the WCOOP championship is held from September 4 to 28. The organizers promised to raffle 85 million USD. The main event with a guarantee of 6 million USD should begin very soon, on September 25.