Jeremy Ausmus became the winner of the first 2022 Poker Masters event
On Sunday, September 18, Jeremy Ausmus won his next WSOP bracelet, beating Nick Schulman in a heads-up. Incredibly, four days later, on September 22, the same pair of players appeared in the final of the opening event of Poker Masters 2022. Jeremy Ausmus became the winner of the first 2022 Poker Masters event after defeating his opponent for the second time. This is the third victory of an American in PGT events.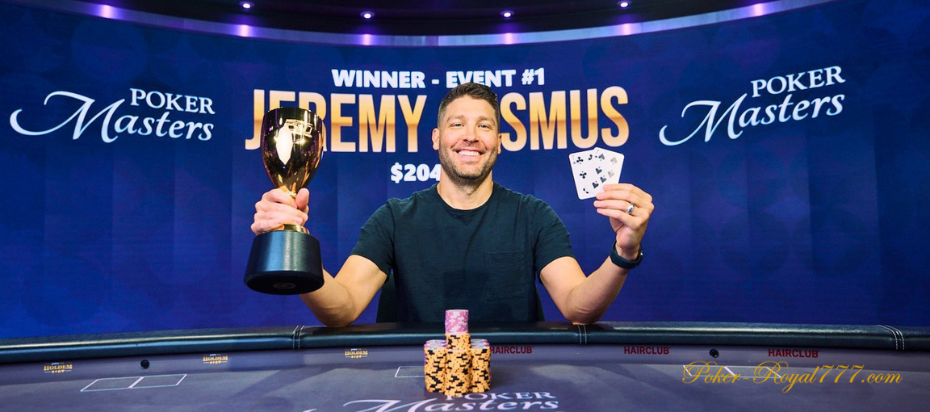 For the first place, the American was awarded 204,000 USD. To win this amount, he had to beat 84 opponents, each of whom made a buy-in of 10,000 USD. Ausmus is now leading the race for the Purple Jacket, which is given to the best player at the end of the series. In addition to a stylish jacket, the poker player receives a good bonus of 50,000 USD.
"I've got my sights set on a cool purple jacket," Ausmus shared on Twitter after the victory, adding an "eyes" emoji at the end.
The 43-year-old American professional received 204 PGT points, which allowed him to climb to the 14th line of the rating. He was also credited with 480 POY points. Ausmus has reached the final table 18 times this year, won five titles and more than 2.6 million USD. In the CardPlayer ranking, the player is in second position, 1316 points behind Stephen Chidwick.
Jeremy Ausmus — 204,000 USD
Nick Schulman — 144,500 USD
Erik Seidel — 102,000 USD
Anthony Hu — 85000 USD
Jacky Wang — 68,000 USD
Cole Ferraro — 51,000 USD
Cary Katz — 42,500 USD
Sergio Aido — 34,000 USD
The tournament lasted 2 days, and the bubble boy was Vikenty Shegal, who lost to Ausmus. Shegal's departure meant that the remaining 13 players received at least 17,000 USD. Several famous poker players received money, but did not go to the second game day. Among them were Ben Yu, Matthew Wantman and Sergio Aido.
Ausmus and Schulman played in a heads-up
7 people entered the second day, and Ausmus was a chip leader. Erik Seidel was on his tail, and Cary Katz brought up the rear chip count. Katz was immediately in danger and had to go all-in against Anthony Hu. Katz had Q-8, Hu held 8-7. On the flop and turn, Hu collected two pairs and knocked out Katz, who received 42,500 USD. Now Katz's career earnings reach 34.9 million USD.
Cole Ferraro, the owner of the bracelet, was the next to be eliminated. With pocket eights, he lost to Ausmus, who had pocket kings. Ferraro became the sixth and replenished the bankroll by 51,000 USD. Jacky Wang, who lost the last 12 BB to Ausmus, got into the top five. Wang earned 68,000 USD, which was his best result in his career.
The four-hand game lasted about an hour, but in the end Anthony Hu went home, losing to Nick Schulman. Hu became richer by 85,000 USD. Each of the three remaining players had at least 30 BB. Seidel, Ausmus and Schulman won 69.9 million dollars for three, but a large share of this prize belongs to 9-time WSOP champion Seidel. And it was Seidel who didn't get to the heads-up when he lost to Ausmus. For a good game, Erik received 102,000 USD.
Ausmus and Schulman played in a heads-up. The first had 6,825,000 chips, the second had 3,800,000. After 75 minutes of the game, Schulman ran out of chips and lost, earning 144,500 USD.