Isaac Kempton won the Pot-Limit Omaha event at the USPO
On March 30, American poker pro Isaac Kempton won the Pot-Limit Omaha event at the USPO and earned 279,000 USD. Thanks to winning this tournament with a buy-in of 15,000 USD, his career earnings increased to 3,093,306 USD. Kempton performs well in PokerGO Tour events. Last year he took 3rd place in exactly the same event, and this month, he got into the prizes of the events organized by PGT four times.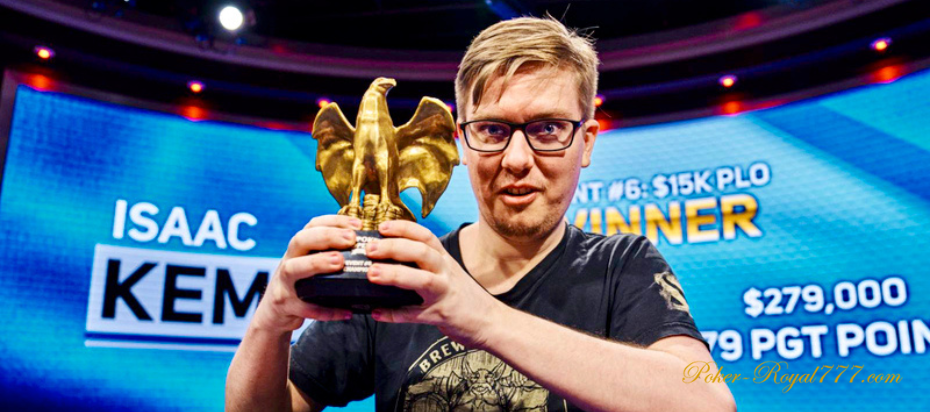 "You can take more risks in Omaha, that's the thing. There are only two cards in hold'em, someone gets aces, and he makes a big raise, and what can you do? Does the opponent have trumps in Omaha? It doesn't matter, you call anyway because you can win. With four cards, you can collect something big. Four cards decide everything. It's good for gambling. It's fun," Kempton said.
The title was the third in the American's career. In 2020, Kempton earned a gold ring by winning one of the WSOPC Hard Rock Tampa events, and last year he became the best at the WPT Five Diamond at the Bellagio. His biggest reward is the sum of 1,093,314 USD, which he won by taking second place in the main tournament of Wynn Millions 2022.
The prize fund of the tournament was 930,000 USD
Thanks to 62 entries, the prize fund of the tournament was 930,000 USD. Each of the finalists guaranteed themselves 27,900 USD. The final day of the tournament began with only four players remaining. At the very end of the third game day, Michael Wang (9th place), Chris Brewer (8th), Jim Collopy (7th), Erik Seidel (6th) and Roussos Koliakoudakis (5th) were eliminated.
Isaac Kempton — 279,000 USD
Gregory Shuda — 186,000 USD
Martin Zamani — 130,200 USD
Ben Lamb — 93,000 USD
Roussos Koliakoudakis — 74,400 USD
Erik Seidel — 55,800 USD
Jim Collopy — 46,500 USD
Chris Brewer — 37,200 USD
Michael Wang — 27,900 USD
Kempton was the chip leader of the final day, but Gregory Shuda dealt with Ben Lamb and Martin Zamani and came forward. In the heads-up, Kempton started an aggressive game and was able to get ahead again. In the last hand, Kempton raised 180,000 on the preflop, and Shuda placed 540,000 after the initial limp. On the flop (Q-J-6) Kempton made a call, and then went all-in, Shuda called.
Kempton: Q-10-9-8
Shuda: To-7-6-2
Turn and River: 4-K
Kempton collected a straight and that was enough to win the hand and the tournament. Shuda took home 186,000 USD, and his career earnings increased to 338,091 USD. The next in the USPO schedule is a no-limit hold'em tournament worth 15,000 USD.