Edwin Dela Cruz won the main event of Poker Dream Manila
On May 7, the main event of the Asian Poker Dream Manila series, in which 499 players participated, ended at The Grand Wing Casino. The buy-in was 66,000 Philippine pesos (1,178 USD), and there were 28,751,382 pesos or 520,083 USD in the prize pool. Filipino player Edwin Dela Cruz won the main event of Poker Dream Manila after winning a heads-up over Italian Alessandro Taranto.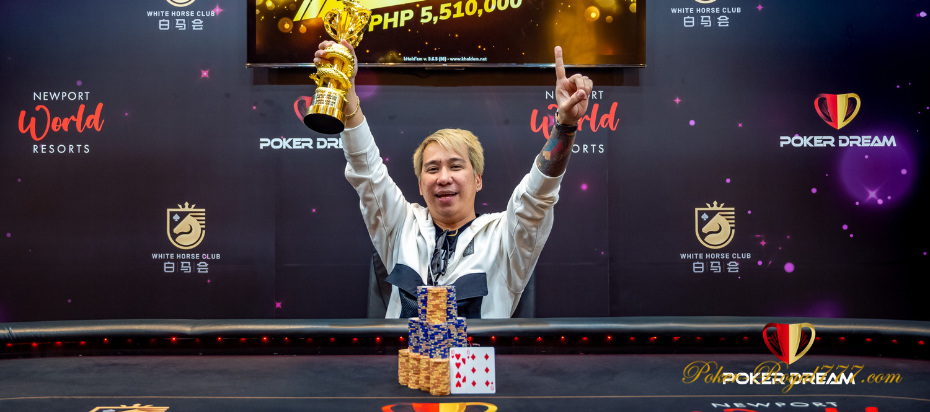 Edwin Dela Cruz scored his third live poker win since February this year, taking home 5,510,000 Philippine pesos (99,518 USD). Taranto made a huge effort, surviving in a heads-up with three blinds and was even close to winning, but still became a runner-up. The Italian earned 3,460,000 pesos (64,492 USD). The last place on the podium was taken by veteran Filipino poker Terry Gonzaga.
The championship in the Philippines has come to an end
David Dave Spade Erquiaga has become one of the main discoveries of the Asia-Pacific region over the past two years, winning nine victories and taking about the same number of second places. Nevertheless, he became the first victim of the final table, with a pair of eights and a gutshot losing to the top pair of Taranto.
Nicola Montalbano was the next to be eliminated, who lost in a three-way all-in. Belarusian player Valeriy Pak and one of the most experienced players at the table, William Teoh, were the next to receive payments. Fifth place was taken by Ryan McAllister. Up to this point, Dela Cruz was a chip leader, but then he was overtaken by Tor Welo. In a face-to-face duel, Dela Cruz collected a straight on the river and won a large pot from Welo. The Norwegian could not recover from such a blow and took fourth place.
Terry Gonzaga was knocked out by the Italian Taranto, after which the heads-up began. In the decisive battle, Taranto dominated at the initial stage, but then lost a series of hands, remaining with three blinds. Going all-in, the Italian won from 8-3 against an opponent who held 7-2. Three double-ups later, Taranto even became a chip leader. After that, the advantage changed hands, and any player could win.
Edwin Dela Cruz (Philippines) — 99,518 USD
Alessandro Taranto (Italy) — 62,492 USD
Terry Gonzaga (Philippines) — 44,636 USD
Tor Welo (Norway) — 35,147 USD
Ryan McAllister (USA) — 27,507 USD
William Teoh (Malaysia) — 21,385 USD
Valery Pak (Belarus) — 15,984 USD
Nicola Montalbano (Italy) — 10,999​ USD
David Erquiaga (Philippines) — 9,013 USD
The battle lasted three and a half hours, and it all ended with Dela Cruz collecting two pairs on the flop from 10-6, and this allowed him to beat the opponent's pocket queens. This is where the championship in the Philippines has come to an end.