Darren Elias won the US Poker Open tournament
Darren Elias is one of the most experienced players who has ever participated in the World Poker Tour, the holder of records for the number of titles won (4), the number of final tables (13) and the number of finishes in the prize zone (46). On the last day of March, Elias added another series title to the collection. Darren Elias won the US Poker Open tournament with a buy-in of 15,000 USD and earned 313,200 USD.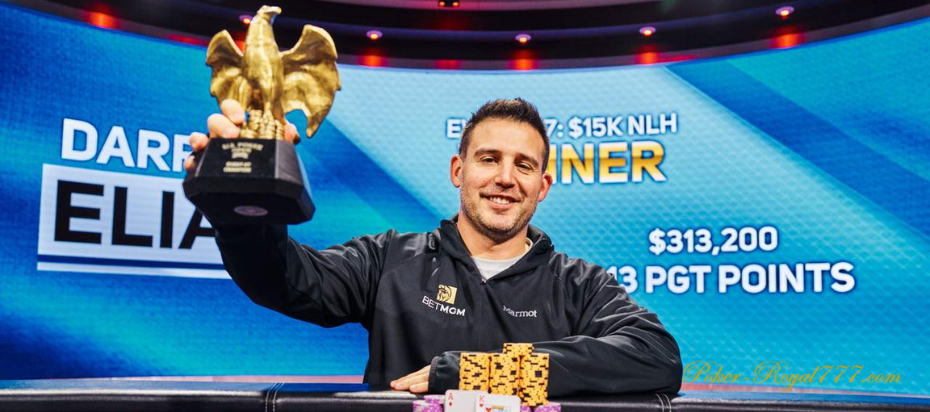 The prize money became the third largest in the career of an American, and his total earnings increased to 11.6 million USD. A few days earlier, he took 5th place in the 10,000 USD event, and finished 9th in the USPO launch event. Elias entered the fight for the title of the best player of the series, taking second place with 399 points and second only to Sam Soverel (457). He is ranked 16th in the overall PGT table. Elias was also credited with 576 POY points.
The no-limit hold'em tournament with a buy-in of 15,000 USD lasted two days and was held at the Aria Resort & Casino in Las Vegas. At the end of the first day, the chip leader was Masashi Oya, who was being chased by Elias and Soverel.
Final table
Chris Brewer was the first to leave the final table, having lost to Elias' pocket jacks with Q-10s. Brewer earned 78,300 USD. In total, this year the American won two titles and earned 2.4 million USD, which allowed him to enter the top 10 of the CardPlayer rating.
The performance of the current USPO champion Sean Winter at the tournament came to an end when his A-K collided with Brandon Wilson's pocket tens, which then improved to a square. Winter took 5th place and earned 104,400 USD. Despite the fact that Oya started the day as a chip leader, he only managed to get to 4th place. He lost a significant part of the stack to Wilson, and then was finished off by Elias. For his efforts, Oya received 130,500 USD.
Brandon Wilson was the next to be eliminated. In his last hand, he went all-in with A-Q, and against him was Elias with A-2. A deuce on the flop allowed Elias to win the hand. Wilson earned 156,600 USD.
Darren Elias — 313,200 USD
Sam Soverel — 221,850 USD
Brandon Wilson — 156,600 USD
Masashi Oya — 130,500 USD
Sean Winter — 104,400 USD
Chris Brewer — 78,300 USD
The heads-up was played by Darren Elias and Sam Soverel. The stack ratio was 4:1 in favor of the former. It didn't take long for the American to deal with his opponent. In the final hand, the pocket sevens of Soverel lost to a pair of kings of Elias. Becoming a runner-up, Soverel received 221,850 USD.