Dao Minh Phu won the tournament with a buy-in of 50,000 USD at Triton Poker Vietnam
Vietnamese player Dao Minh Phu won the contest with a buy-in of 50,000 USD at Triton Poker Vietnam, earning 1,670,000 USD. This is the first major tournament title in his career. Phu managed to beat 138 players who fought for a part of the prize pool, which was 6,950,000 USD. The tournament lasted 2 days at Hoiana Resort & Golf in Quang Nam. In addition to money, Phu earned 1122 POY points, which allowed him to climb to 62nd place in the CardPlayer rating.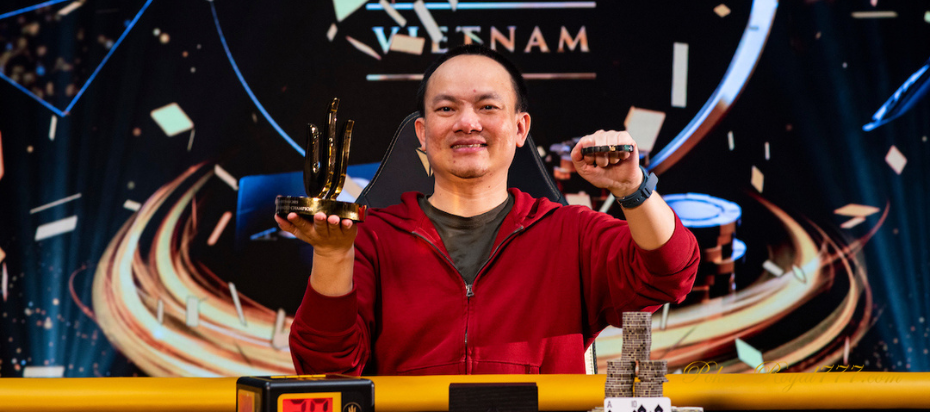 "I learned to play poker only three years ago. It's my first time playing at a major tournament, and I'm very happy," Dao Minh Phu said after the game.
The final table was formed after seven hours of play on the second day. The first elimination at the unofficial final table occurred when bracelet holder Sam Greenwood with A-Q faced Ben Heath's pocket aces. Greenwood could not beat the opponent and took 9th place (166,800 USD).
In the next roller coaster-like battle, online poker star Linus Loeliger (Q-Q) and bracelet holder Dan Smith (A-K) faced off. K-Q-5 appeared on the flop and Loeliger strengthened the advantage by collecting a set. However, the ace on the turn gave Smith hope for a full house. Another ace appeared on the river, and Loeliger left the tournament, taking 8th place.
Biao Ding and Dao Minh Phu remained in the head-up
Heath's performance at the tournament ended when his pocket jacks failed to beat Biao Ding's A-Q. Everything was decided by the lady who fell out on the flop. Heath received 291,800 USD and increased earnings offline to 15.5 million. Karl Chappe-Gatien, who recently won his first title in live poker, put the last chips with J-10, but Ding had a couple of aces. The aces held out, and Chappe-Gatien took 6th place.
EPT champion Patrik Antonius went all-in with K-J, facing the pocket sixes of Phu. Antonius failed to improve and became the fifth (497,000 USD). The 4th place was taken by the Russian player Viacheslav Buldygin, and Ding's street beat his pocket kings. After that, Ding with A-10 outplayed K-7 Smith, who had a short stack. Smith took 3rd place and earned 750,500 USD.
Dao Minh Phu — 1 670 000 USD
Biao Ding — 1 135 000
Dan Smith — 750 500
Viacheslav Buldygin — 618 000
Patrik Antonius — 497 000
Karl Chappe-Gatien — 389 000
Ben Heath — 291 800
Linus Loeliger — 215 500
Biao Ding and Dao Minh Phu remained in the head-up. The Chinese player had twice as much stack. In one of the first hands, Phu narrowed the gap and then completely came out ahead. However, Ding would not give up just like that and again pulled ahead, winning a big pot with thrips. The players switched places again when A-J Phu stood up against Ding's A-8.
The Chinese have few chips left and he even doubled once. However, after that, the final hand happened: Ding had K-spade, Q-spade, Phu —A-spade, 10-spade. K-diamond, 8-spade, 2-club, 3-spade, 9-spade appeared on the board, and Phu became the champion.