Chao-Ting Cheng won the APPT Cambodia main event
This week, the PokerStars Asia Pacific Poker Tour (APPT) championship ended in Cambodia, the central event of which was a 1,500 USD tournament. All actions took place at the NagaWorld Casino. Taiwanese player Chao-Ting Cheng won the APPT Cambodia main event and earned 94,448 USD.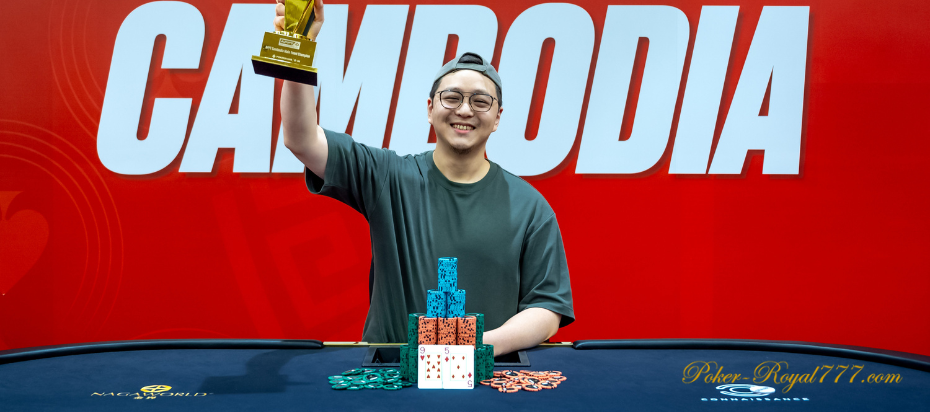 A total of 476 participants registered in the event, and the prize fund was 623,322 USD. Most of the money was shared by Chao-Ting Cheng and runner-up Junnie Pamplona, who concluded a deal with him (101,647 USD). Pamplona entered the tournament through a 120 USD satellite, winning a package that paid for accommodation and buy-in. The player was very little short of record earnings. Now his best result is the amount of 106,482 USD, which he received for 3rd place at WPT Prime Cambodia.
Among the finalists of the tournament were mainly Asian players, who were accompanied by Evgenii Nekrasov from Russia and Jimmy Torres from Colombia. The average stack of finalists was quite deep, but it took only 6.5 hours to determine the champion. Only 4 players made it to the first break.
Final table
Vietnamese Bien Mai, who has two second places and a victory in the Asia-Pacific region events over the past two months, was the first to leave the final table. After that, Curtis Lim from Singapore lost with pocket eights to a pair of Jimmy Torres's queens and took 8th place. Eric Tsai knocked out Hua-Wei Lin, and Chao-Ting Cheng knocked out Kien Tat Heng.
After that, Evgenii Nekrasov with dozens could not get ahead of K-Q of Pamplona and also left the event. All this took only two hours, and only poker players with deep stacks remained in the game. The fourth place was taken by Jimmy Torres, who with 8-7s lost to the pocket kings of Pamplona.
The future champion was close to taking third place. At some point, his stack was reduced to 12 BB, but he was able to double at the expense of Pamplona. After that, Chao-Ting Cheng beat Tsai's pocket queens with a flash (3rd place).
Chao-Ting Cheng (Taiwan) — 94,448 USD
Junnie Pamplona (Philippines) — 101,647 USD
Eric Tsai (Taiwan) — 54,290 USD
Jimmy Torres (Colombia) — 42,760 USD
Evgenii Nekrasov (Russia) — 33,597 USD
Kien Tat Heng (Singapore) — 26,242 USD
Hua-Wei Lin (Taiwan) — 19,759 USD
Curtis Lim (Singapore) — 13,775 USD
Bien Mai (Vietnam) — 10,908 USD
In the heads-up, the players decided to make a split. After ten hands in heads-up, Cheng made a big double-up with a couple of queens. After three more hands, Pamplona min-raised with pocket aces, but lost to Cheng's quads and took 2nd place.