Alexandre Vuilleumier won the first WSOP high roller
On June 2, Swiss poker pro Alexandre Vuilleumier won the first WSOP high roller, which cost 25,000 USD. Vuilleumier became the champion of the series for the first time and received 1,215,864 USD, increasing his career earnings to 2.1 million USD. A total of 207 players took part in this tournament, competing for a prize pool of 4,864,000 USD.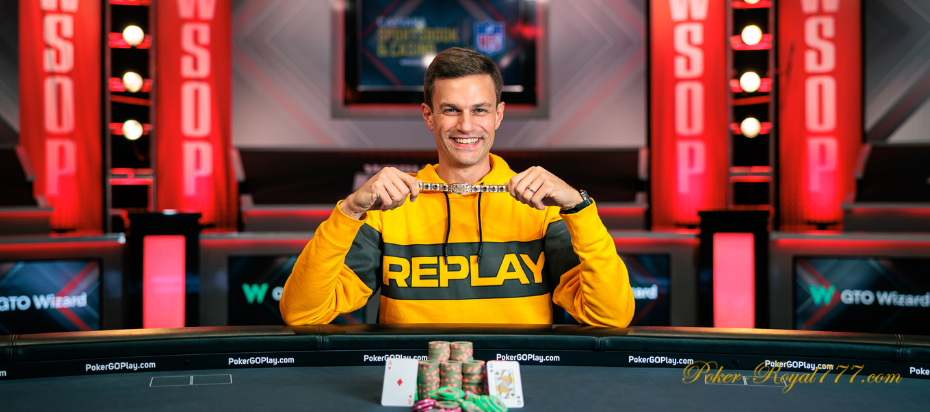 This year, Vuilleumier reached the finals of tournaments twice and celebrated victory both times. The Swiss won his first victory at PokerStars Caribbean Adventure, winning a 6-max tournament for 10,150 USD and receiving 237,700 USD.
The 25,000 USD high roller lasted three days, and the money was shared by the 32 best players. Among those who got into the prizes were offline prize leader Justin Bonomo (29th place), WSOP 2021 champion Koray Aldemir (26th), WSOP 2022 champion Espen Jorstad (25th), 6-time bracelet winner Daniel Negreanu (22nd), EPT champion Chris Brewer (21st4th), 4-time bracelet winner Adrian Mateos (14th), recent WPT Seminole Hard Rock Poker Showdown main winner Bin Weng (12th), 2-time bracelet winner Keith Lehr (11th) and several other bracelet holders: Andrew Lichtenberger (10th), Jake Schindler (9th), and Elior Sion (8th).
Alexandre Vuilleumier and Chance Kornuth played in the heads-up
The first to leave the final was the owner of the bracelet, Joey Weissman, who had pocket kings. Unfortunately for the player, the pair lost to Vuilleumier's hand of J-3, who collected a full house. Ren Lin tried to bluff against Chance Kornuth, but lost, remaining with 13 blinds. Immediately after that, Sean Winter lost to Vuilleumier and was left with 1.5 BB. Winter managed to double up and get some space for action.
Lin then went all-in with A-10s against Kornuth's pocket kings, which improved to a square on the turn. Ren Lin took 5th place and earned 259,220 USD. Winter then doubled up again, this time at the expense of Axel Hallay, who was left with a short stack. Soon, Hallay went all-in with Q-3 against Winter's K-Q. Sean caught the king and won the hand by knocking out the opponent.
Winter's performance ended in third place. With an average pair and a straight draw, he lost to the older pair of Vuilleumier. The American's reward was 518,106 USD.
Alexandre Vuilleumier — 1,215,864 USD
Chance Kornuth — 751,463 USD
Sean Winter — 518,106 USD
Axel Holley — 363,326 USD
Ren Lin — 259,220 USD
Joey Weissman — 188,219 USD
Alexandre Vuilleumier and Chance Kornuth played in the heads-up. The Swiss had 19,800,000 chips at his disposal, the American held 11,300,000. Vuilleumier's margin soon widened when he won a large pot with the queens. After the distribution, Kornuth had a little less than 18 BB left. When he had 14 BB left, the final hand was played. Vuilleumier limped off the button with A-Q, Kornuth went all-in with BB with K-3. The Swiss called, and J-10-9-8-J was distributed on the board, which gave the future champion a straight.