888poker LIVE series returns to London
One of the most iconic poker establishments in the UK is the London casino Grosvenor Victoria, which is affectionately called The Vic. It is here that the next championship organized by 888poker starts on April 12. The 888poker LIVE series returns to London for 12 days. As usual, tournaments can be accessed via satellites.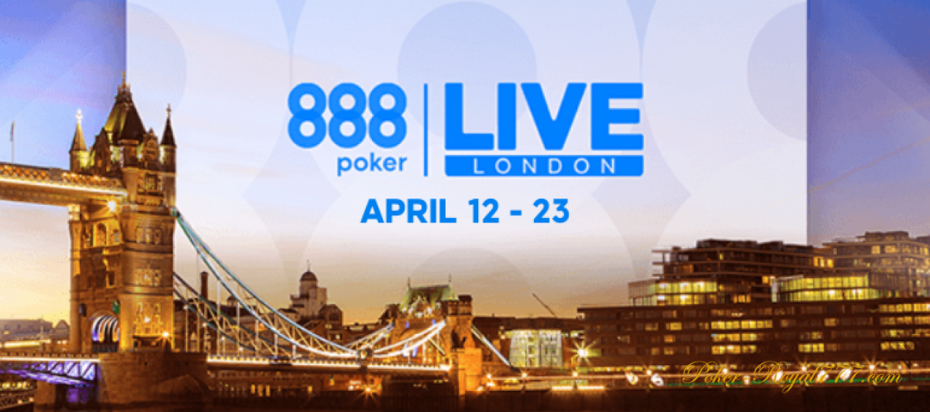 A number of tournaments with buy-ins from 55 to 2,000 pounds will be held from April 12 to 23. But the cheapest events are not suitable for everyone. The tournament for 55 pounds will be held only for women, and the event with a buy-in of 150 pounds invites players over 50 years old. For everyone else, the cheapest is the Dash Rumble tournament with a buy-in of 200 pounds, which will begin on April 18.
As for the most expensive event, it is a High Roller with a buy-in of 2,000 pounds, which will end on April 20. 888poker LIVE London will host many other events in the series, including a main event with three launch flights, which will begin on April 20.
Satellite to the main event
You can participate directly in any of the events, but you can also get in for a lower price. On the first day of the championship, April 12, a satellite for two tournaments will be held. For 150 pounds, you can take part in a satellite, which allows you to play both Mystery Bounty (buy-in of 440 pounds) and Mini 888 (buy-in of 444 pounds). The satellite starts at 19:00 local time.
During the tournament there will be satellites to other events, including the main event and high roller. In addition to offline satellites, qualifying tournaments are also available on the Internet. On 888poker, you can get a package worth 2,200. USD. Here is what is included in this package:
1,100 pounds (1,400 dollars) for making a buy-in
500 dollars for accommodation
300 dollars for travel expenses
A direct satellite to the main event costs 109 pounds. There are qualifiers for this satellite, the price of which is only 1 penny. For British players, 888poker has a special surprise: one of the lucky ones will receive a ticket to the main event of the series, a ticket to a football match and the opportunity to play with members of the 888poker team. Also, this person will be able to invite two friends to a poker game and a football match. This special tournament will be held on April 9 and will cost only 5 USD.
The last time 888poker held an event at The Vic was less than a year ago. Then the main event with a buy-in of 2,000 pounds was won by Jack Hardcastle, who earned 57,098 pounds.