PokerOK Bubble Protection
The GGNetwork network does not stand still and constantly offers its customers functions to feel more comfortable and calmer in games. In 2019, there was an opportunity to protect against bubble in poker. This right can also be used by poker players who choose other poker rooms of this network. What is Bubble Protection? Let's find out in this material.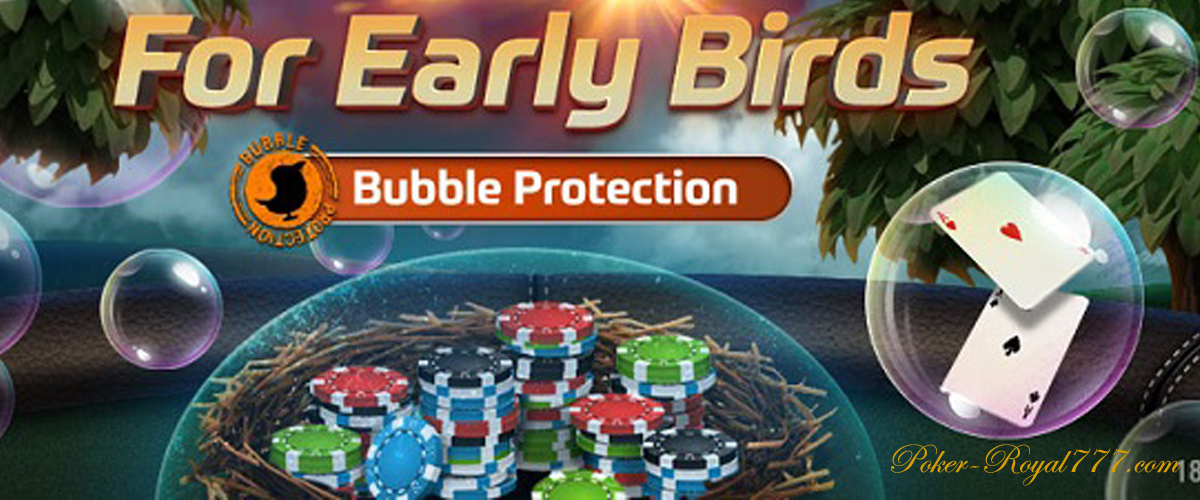 PokerOK Bubble Protection: what is it?
All poker players who once found themselves in the bubble zone can convey the disturbing feeling when the prize was one step away. At such moments, it seems that the game is dragging on for a very long time. In order to make such thoughts of players visit less and less often, PokerOK offers to use Bubble Protection – pre-payment for buy-in. It can be used either by one poker player during the game or by several. Experienced PokerOK participants noted that when using this option, the game is significantly accelerated. This is also beneficial for event organizers, as they get the opportunity to organize several sessions in a short time. Given that many Asian residents play on the GGNetwork network, there is no doubt about the popularity of the GGPokerOK room.
PokerOK Bubble Protection: How to get
It is important to understand that not all poker games and tournaments are held with Bubble Protection. Such events are marked with a special "Bubble Protection" icon. At the moment, the poker room has five such events: Phoenix Rebuy, Daily Guarantees, Omaholic, Bounty Hunters, and MBP. Also, a prerequisite for obtaining protection is the number of participants at one table — there must be at least ten. Players who want to get PokerOK Bubble Protection should follow the following step-by-step instructions:
Find a tournament marked "Bubble Protection".
Register for the event before it starts, becoming an early bird.
Play, claiming prizes.
Note that the number of players applying for PokerOK Bubble Protection directly depends on how many opponents you will have.
| | |
| --- | --- |
| Number of players | Number of bubbles |
| 10 — 99 | 1 |
| 100 — 499 | 2 |
| 500 — 999 | 3 |
| 1000 — 1999 | 4 |
| 2000 — 2999 | 5 |
| 3000 — 3999 | 6 |
| 4000 — 5999 | 7 |
| 6000 — 7999 | 8 |
| 8000 — 9999 | 9 |
| 10000 + | 10 |
Usually, PokerOK Bubble charges in tournament money, but there may be other options for returning the buy-in. The refund is made immediately after the end of the event, which, you will agree, is also nice.